Compostable single-use eating supplies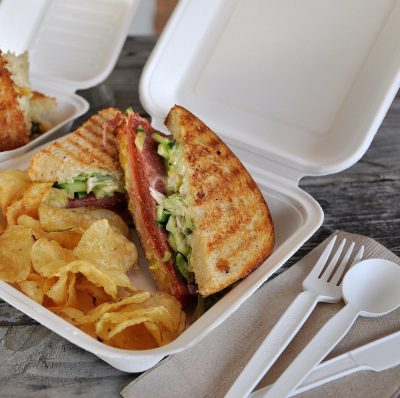 If single-use eating supplies are necessary for your community, please consider using compostable supplies rather than plastic and styrofoam. Kudos to Morgantown First Presbyterian Church for using these type of supplies at the May 2019 Presbytery meeting!
And kudos to the Cabell/Lincoln Workcamp program for using these type of supplies for the past several years. According to Rev. Rick Wilson, director of the program, these supplies don't cost much more than the "standard" plastic/styrofoam single-use supplies (which literally take forever to break down in a landfill and are polluting our oceans and waterways at an alarming rate).
Compostable supplies are better because they will break down into organic components when put into appropriate commercial landfills or composting facilities. Some will even break down in home composting facilities. Before choosing such products, please check labeling to see what type of disposal facilities are necessary.
If you are interested, the Cabell Lincoln Work Camp leaders use Ohio's Going Green Services for their supplies. Email them at info@goinggreenservices.com, call 740-400-0014 or send them a message at Going Green Services, P.O. Box 151, Granville, OH 43023.
Interested in becoming an Earth Care Congregation? 
If your community is interested in joining the ranks of PC(USA) Earth Care Congregations, please check out this site! Applications are considered January 1-February 15 of the calendar year in which you'd like to be certified. If you need any suggestions on how to complete the form and/or how to carry out any of the requirements for this certification, please contact Robin Blakeman (rbrobinjh@gmail.com) or Brenda Wilson (brendaterminiwilson@gmail.com).
Stormwater runoff, or non-point pollution
From this site,  and inspired by the summer edition of Headwaters, a publication of WV Rivers.
Pollution from stormwater pollutes drinking water sources and affects aquatic life. How do we as individuals, churches, and businesses cause pollution from stormwater runoff? What can we do about it?
Untreated stormwater flows from…
Stormwater carries along with it anything it encounters as it flows along the ground and ends up in our waters. Some of the pollutants include sediment, bacteria, pet and agricultural waste, oil and grease, fertilizers, pesticides, and even heavy metals. Some of the causes include erosion, runoff, removal of vegetative buffers, breakdown of roads, failing septic systems and sewer lines, failing underground pipes, poorly maintained cars, construction sites that do not comply with the WVDEP's requirements, and accidents at manufacturing, mining, and drilling sites.
Individuals can help prevent stormwater runoff pollution by doing things such as positioning your car on your lawn or gravel for washing, planting native plants and grasses, and not over-watering your lawn or garden. For more information about what you can do to prevent stormwater pollution, click here.