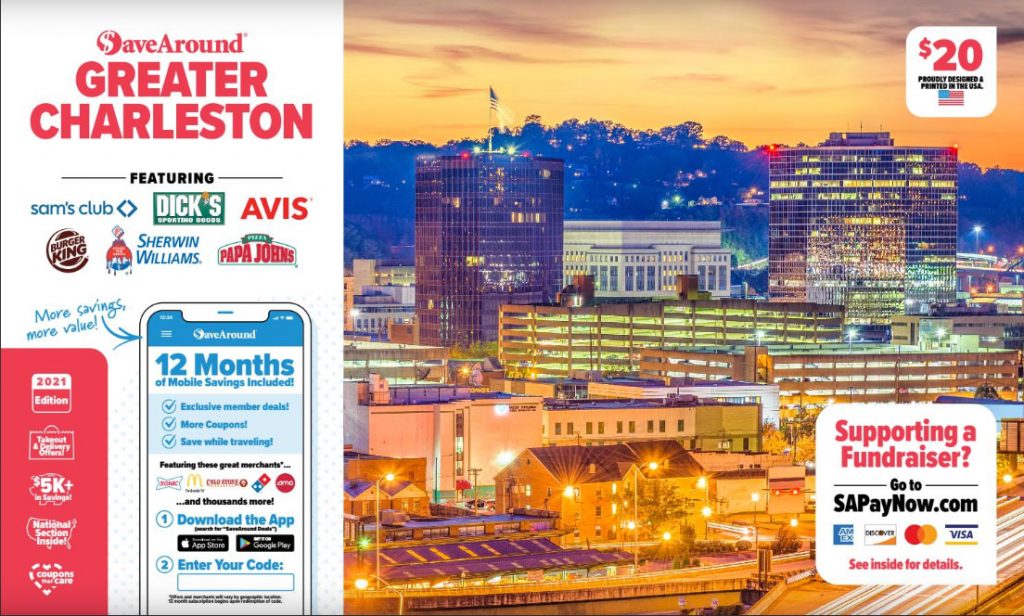 While Bluestone was open this year, it has been a challenging year. Friends of Bluestone is offering SaveAround Coupon Books again this year. This is a win-win fundraiser where you pay $25 for a coupon book (good now through the end of 2022) and half goes to Bluestone. After you use 3-5 coupons, you've paid yourself back that $25 investment, and from there on, it's pure savings. Plus, you have the pleasure of knowing you also provided needed funds for Bluestone.
Best of all, these books are available across West Virginia and the country – 86 cities in 30 states. These books make great gifts for out-of-town friends, family, and, of course, Bluestone fans and supporters who no longer live close by. SaveAround Coupon Books have 260 valuable coupons for local businesses, including restaurants, services, retail, entertainment, recreation, and an additional 60+ coupons for national chains, all worth more than thousands of dollars in savings.
Included in the cost is a downloadable app for smartphones, so you can redeem coupons with your phone rather than carry the book with you. In keeping with COVID concerns, restaurants are honoring coupons for take-out and curbside pickup as well as dine-in where that's available. Preview the Charleston, Huntington, or any other city books at www.SAPayNow.com/212394.
Simply visit the link, select a state and a city, and preview the savings. Buying the books is easy: just fill in the requested information, including the seller who contacted you (if no specific seller, use Scott Hamilton, wshamilton@yahoo.com; he'll spread credits among the other sellers).
Want more than one? If for the same location, select the number you want from the dropdown box. If for a different city, select "Add another book." They will all be sent to the same address. Choose "Ship book(s) – FREE SHIPPING," and you'll receive them sooner.
Ordering for out-of-town friends or relatives? Just fill in each of their addresses in additional orders. It's all contactless this year — a simple process during the COVID pandemic.
Would you like to be a hands-on seller? Please contact Scott Hamilton (wshamilton@yahoo.com or 304-746-5457) in the Charleston area, Sarah Specht (sarahb43215@yahoo.com or 304-690-6667) in the Huntington area, or any member of the Friends of Bluestone board. They will get a book with an order form to you to record your sales. For every five books you sell, you'll get a free book for your family.
Sales run through the end of December. We encourage you to share this information with families, friends, and neighbors using social media, email, or in person (socially distanced). If they're not comfortable ordering online, just record their purchases on the order form and collect payment from them before placing the order. If they order online, Scott and Sarah will update you about your sales.
We hope you'll help Bluestone with this fundraising effort by being an official seller for your congregation or friends and coworkers. If selling isn't your choice, we think buying a book for yourself and/or others as gifts is an awesome way to support this crucial and beloved camp during this challenging year!