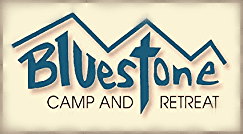 Click on the picture above to visit the Bluestone website
Bluestone Camp & Retreat is a Presbyterian summer camp program for four weeks during June and July and a three-season retreat destination for a variety of church, non-profit, and family groups. Our facilities are currently closed December through mid-March. We serve the Presbyterian Church (USA) in West Virginia and many other church and non-profit organizations. Several have made Bluestone their annual destination, returning for retreat and renewal year after year.
Over the years, we have had family reunions, weddings, special interest groups, collegiate events, church congregations, and bible conferences use our facilities. We would welcome the opportunity to host your group. If you're looking for a friendly and flexible place to be, we are confident Bluestone will more than meet your needs.
Our mission is to provide experiences that are character building in nature through summer camping programs and other programmatic events for children, youth, and adults; and to provide opportunities for recreation, rest, and renewal through the use of our facilities as a Center of Christian Hospitality.