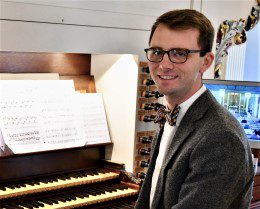 Nathan Kyle Lively, who grew up studying and playing the organ at Hinton First Presbyterian Church, will offer a Zoom webinar on Church Music in the Covid-19 Age at 6 p.m. Thursday, July 30. He has already presented it to several groups and has also created a group of clergy and musicians during the pandemic to see "where we are, where we need to go, how we can get there, and what do we need to cover along the way – be that different types of worship styles, worship resources, and how to stay on the legal side of copyrights."
The 29-year-old, who previously served at Presbyterian churches in Abingdon, VA, and Uniontown, PA, is currently the Director of Music at St. John's Lutheran Church in Stamford, CT. A nationally recognized musician, he is an active performer, educator and church musician as well as a member of the American Guild of Organists and American Choral Directors Association.
If you are interested in participating, email office@wvpresbytery.org or call 304-744-7634 by Wednesday, July 29 to request the Zoom link. If you are unable to attend on the evening of July 30, the plan is for the webinar to be recorded and shared on the Presbytery website, so you can watch after the fact.