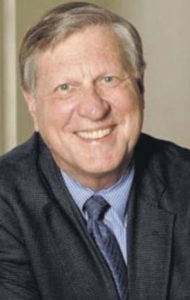 This fall, we have the privilege of having Thomas G. Long, Bandy Professor Emeritus of Preaching at Candler School of Theology and author of The Witness of Preaching, lead an Expanding Your Ministry Toolbox Course on Preaching.  This will be held on Saturday, October 17, from 9:30 a.m. to 4:30 p.m., with an hour off for lunch.  In light of ongoing concerns about Covid-19 at this time, this course will be offered only on Zoom.   
Whether you preach regularly or occasionally, this workshop will be an opportunity to look at ways "for preachers to plumb the depths and discover the riches of biblical texts" as you prepare sermons.  Vital and creative preaching begins with vital and creative encounters with the Scripture. In this seminar, we will examine the difference genre makes (Is the text a healing story? A parable? An Epistle?), pose provocative questions to ask of biblical texts, and learn methods of interpretation that expose the many facets of a passage. Our goal will be to create sermons that enable the Scripture to come alive in the imaginations and faithful lives of those who hear them.  
In addition to being the Bandy Professor Emeritus of Preaching at Candler School of Theology, Long is also the author of several books, including The Witness of Preaching; What Shall We Say?: Evil, Suffering and the Crisis of Faith; Matthew (in the Westminster Bible Companion Series); Hebrews (in the Interpretation Series); and Accompany Them with Singing: The Christian Funeral. He is also one of the editors of Connections: A Lectionary Commentary for Preaching and Teaching. He and his wife, Kimberly Bracken Long, reside in Cambridge, Maryland.
The registration deadline for this event has been moved to Monday, October 12.  The cost per person is $50, which is due at the time of registration.  The Zoom link will be sent out no later than Wednesday, October 14, to those who have registered. 
For more information, or if you have any questions, please contact Susan Sharp Campbell, susan_sharp_campbell@hotmail.com or 304-645-4568. 
REGISTER AND PAY ONLINE HERE: