By Ed Thompson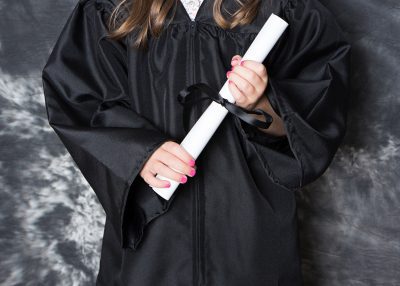 I attended two graduations recently. They were both very different, both very good, and both gave me hope. One happened on Sunday, May 21, at the Bramwell Presbyterian Church. They were celebrating the graduates of their preschool program. Each child finishing the program had on a cap and gown along with a stole that had the initials "BPN" for Bramwell Presbyterian Nursery. They walked down the center aisle of the sanctuary while the organist played "Pomp and Circumstance" and then took a seat on the platform while the congregation stood. A lot of times, things like this will make me roll my eyes. This time, I just had to grin. This was cute. The kids were so serious. Their parents were so proud, as were the members of the church. They've been doing this for something like 42 years. Well, maybe not the graduation ceremony, but they've been offering this preschool program for quite a while. A woman who was in the first graduating class is now the director.
I thought of how many children this church has touched and the difference they have made in their lives. Bramwell isn't a big church. The directory shows they have 15 members. The town isn't that big, either. According to the 2020 census, they have a population of 277. It would be easy to complain. It would be easy to give up. Yet they continue being faithful and carrying on a ministry that has been a blessing to that community.
It's hard not to notice the impact the Hatfield-McCoy Trail System has on that part of the state. There are signs welcoming riders to the area, lodging options that seem to cater to riders, and new restaurants that have sprung up because of the influx of tourists with ATVs. That's not something that the founders of the church or the town would have ever imagined. Before the trails opened in 2020, few people would have believed that this would work out as well as it has. Yet here we are. The church continues to minister to a changing community in a changing world. I think that's what faithfulness means. I don't know if or how they might be able to reach the riders who come in from out of state. If they're there on Sundays, they are probably out on the trails and church may be the last thing on their minds. But there's an opportunity and there's still children and there's still hope.
The other graduation took place at Davis & Elkins College on May 12-13 with a baccalaureate service on Friday night and commencement on Saturday morning. I have served on the Board of Trustees at D&E for the past six years. That's been a great experience. It has certainly given me new appreciation for the challenges facing small liberal arts colleges. The road ahead is not going to be easy. In the next few years, there will be a significant drop in the number of high school graduates because people started having fewer children about 15 years ago. So, part of it simply has to do with numbers. However, an increasing percentage of students, as well as their parents, now doubt the value of a liberal arts education. As a line from an old country and western song goes, "It's a deadly combination." Well, it will be deadly for many small liberal arts colleges. A quick internet search shows that 861 colleges and 9,499 campuses in this country have closed since 2004. I suspect more will follow in the next 5-10 years. I don't think Davis & Elkins will be one of them. President Chris Wood and the Trustees of D&E are working hard to meet these challenges. They need our support.
As I watched graduates receive their hoods from their favorite professor or coach or staff member of the college on Friday night and then walk across the stage to receive their diploma and get their picture taken with the president of the college on Saturday morning, I became more convinced that Davis & Elkins College offers a transformative experience for its students. It's not Harvard or MIT. Nor is it a party school. (Although I'm sure there are difficult classes and more than a few parties there every weekend.) It is a school that cares. It's a school that wants its students to succeed. It's a school that's working hard to make a difference, to reach students that are starting to struggle, to support students that need help.
The Rev. J. Herbert Nelson, stated clerk of our denomination, was the baccalaureate speaker. (Here's an article from the Presbyterian News Service on his talk.)  In his benediction, he urged students to wake up every morning and "shake up the world." I believe these students can and will do that, and I believe that's possible because of the education they received at Davis & Elkins College.
We have great things going on in our churches and in our state. These two almost overlapping graduations reminded me of that. We just need to keep our eyes open and keep believing that God is still at work in our midst.