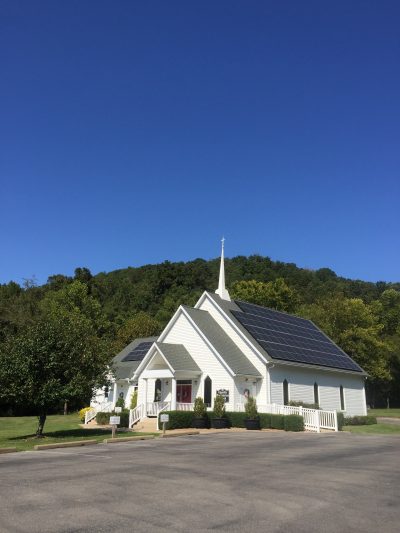 Glenville Presbyterian Church invites everyone to a dedication ceremony for their solar panels on Sunday, Sept. 22 at 3 p.m. Rev. Karen Kinney will lead the short outdoor ceremony, which will be followed by solar-powered refreshments and information about solar energy in the church hall.   
The refreshments – sun tea and s'mores – are being made by the Gilmer County Girl Scouts, using energy from the sun.
The Glenville Presbyterian Solar Energy System (73 panels) is fully online now.  During August, the system made more than enough energy to fill the church's needs.   
Contact Kayla at Glenville Presbyterian, glenvillepresbyterian@gmail.com, for more information about solar energy at your church.  
Another fall event can also provide an opportunity to find out about solar energy for your church. On Sunday, Oct. 6, Spencer Presbyterian Church will hold an open house from noon to 3 p.m. as part of the National Solar Tour. All are welcome to drop by. Click here for more information.