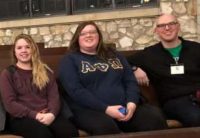 Rev. Chris Bailey (pictured with students at the 2018 Montreat College Conference) is now well into his second year as the Presbyterian Campus Minister for Marshall UKIRK. He started in this position on April 1, 2017, and the Presbytery of West Virginia ordained him into this call that summer on June 25.
Marshall UKIRK meets weekly on Tuesdays during the academic year for dinner, worship, and Bible study in the Campus Christian Center at Marshall University. Music leadership is offered through a partnership with First Presbyterian Church of Huntington.
Marshall UKIRK also meets monthly at Honey Bones, a restaurant across from campus, for Stouts and Doubts — An Open Theological Discussion. Stouts and Doubts allows students to ask questions and wrestle with their faith among a diverse array of theological perspectives.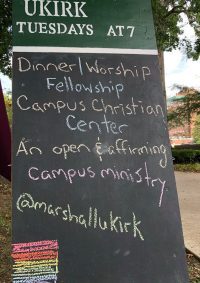 Spinning off a Lenten study around the book 'Queering Lent,' Marshall UKIRK is partnering with Marshall University's LGBTQ+ Office this year to offer A-SLAY-ing Grace, an open and affirming support group for LGBTQ+ students to talk about issues of faith, share experiences, and offer support to one another. Topics of discussion will include:
Dealing with rejection from family and faith communities
Finding open and affirming faith communities
Queer biblical figures of faith
Resources on queer faith
Additionally, Marshall UKIRK is partnering with Highlawn Presbyterian Church of Huntington to serve meals to residents of the Huntington City Mission. 
Looking forward, Chris hopes to grow Marshall UKIRK into a campus ministry that allows student to deeply engage their faith as they grow into early adulthood — giving students space to ask questions, develop their faith, and live into their faith.
Chris loves all things outdoors, and he can often be found running the local trails around Huntington. He also has high hopes of sharing his love of backpacking with his wife, and they look forward to exploring trails throughout the state, regardless of the season.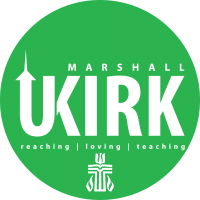 Chris, Noha, and their dog Lucy are settling nicely into Huntington. Rev. Noha Khoury-Bailey is serving as the chaplain to PROACT, which is an addiction treatment center that recently opened through a partnership between Cabell Huntington Hospital, St. Mary's Medical Center, Valley Health, Thomas Health, and Marshall Health. Additionally, Noha will begin a stated supply with Spring Valley Presbyterian Church in December.
Marshall UKIRK is a ministry of the Westminster Foundation. More information about Marshall UKIRK can be found at marshallukirk.org and on social media (@marshallukirk).