If your church has been using music in your streaming services during the pandemic, especially if you plan to continue virtual worship even when you return to in-person services, you need to make sure you have a copyright license, whether you're having musicians perform songs, inserting recordings of them into the service, or using YouTube videos.
This is important anyway to make sure the worship services you are sharing are legal, but it is especially important now, as copyright groups, record labels and musicians who granted some leniency on this issue when the pandemic began are cracking down on unlicensed sharing as the months go by. If you do not have a copyright and/or streaming license to perform or share music, visit one of the two main church music licensing sites: CCLI (Christian Copyright Licensing International) or One License.
Copyright licensing is an efficient and cost-effective solution for legal compliance, allows you to store and project song lyrics or print songs, record the entirety of your services, and post this recorded service music online.  Please note that the streaming license may be in addition to the copyright license, not included in it.
For more details on CCLI's Copyright License, Streaming License, and SongSelect, click here. For each choice, you can select the button bearing its name and get even more information about that service. Not listed on the main page but as part of the Copyright option, you can find information about a Rehearsal License, which may be helpful when your church returns to regular in-person services.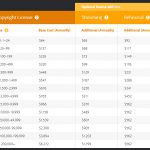 The Copyright License starts at just $64 per year for church membership up to 24 people and goes up from there. The Streaming License add-on ranges from an additional $65 annually for church membership up to 24 people through $129 for membership from 500 to 999 people. (Click image for a larger look at the costs.)
SongSelect, which is "the definitive source for discovering lyrics, transposable sheet music, audio samples and so much more from more than 100,000 worship songs," is an additional $157 or $198 a year; click here to see what's included in each version.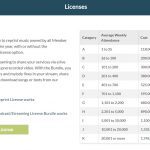 With One License, things are a little simpler. There is the main Reprint Annual License, which begins at $118 per year (for congregations no larger than 25). Streaming bundles can be added to that, beginning at $67 for the smallest congregations. (Click image for a larger size.)
Additionally, if churches are not worshipping in person, the Limited Streaming License is available for those broadcasting worship services through live stream or pre-recorded video at the same price as the annual license. However, if you include song lyrics, share handouts, or download songs or texts, that requires a Streaming Bundle License.
Please note that the annual license only covers congregations and does not include music for choirs, ensembles, accompanists or instrumentalists. There are additional Practice Track Licenses that can be purchased for that.
For more information on this topic, here is a list of Frequently Asked Questions received by CCLI.