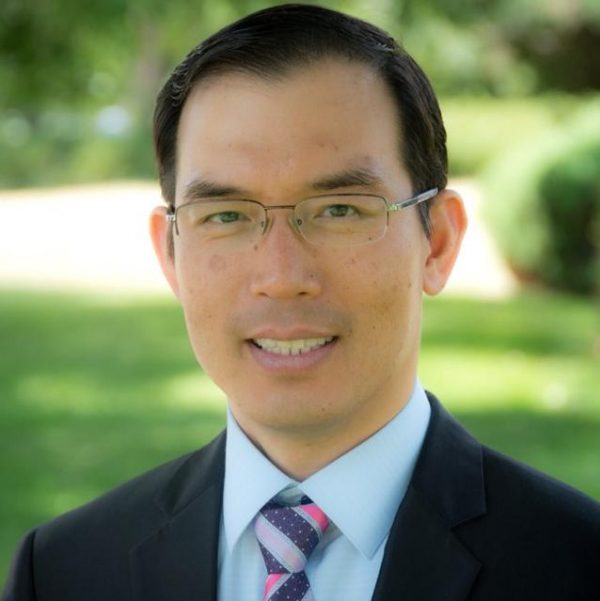 The Rev. Dr. Se Hwan Isaiah Kim was called to become the pastor of the First Presbyterian Church of Hinton in August 2020. Rev. Kim was born in Korea on August 6, 1973. He was the third of four sons in a devout Christian family; three of the four sons are pastors and missionaries.
Rev. Kim has an extensive educational background and has studied and ministered in a number of different countries and cultures around the world. He has lived and ministered in Korea, Singapore, Sweden, England, Thailand, Indonesia, Malaysia, Australia, and the United States.
Rev. Kim met and married his wife, Mi Young Chung, in 2004 while they were both attending Gordon Conwell Theological Seminary in South Hamilton, MA. Mi Young obtained a Masters in Educational Ministry (Christian Education) and Rev. Kim a Masters of Divinity and Masters of Theology in Biblical Theology in New & Old Testament. Rev. Kim received his Ph.D. in Missiology from Concordia Theological Seminary in Fort Wayne, IN. Mi Young is a second generation Korean-American. Her father was a pastor in Chicago.
The Kims have four children: Joelle (age 13), Josiah (11), Hesed (9) and Salome (6).
Rev. Kim has served as a missionary, youth leader; youth pastor; cell group leader; praise leader; Summer Retreat Main Speaker; Arise Youth Ministry and Seminar Speaker; English Ministry pastor of The Agape Korean Presbyterian Church in Iselin, NJ; Music and Teaching Pastor of the Fort Wayne Korean Church in Indiana; Senior Pastor at Ye Dalm Presbyterian Church in Aurora, CO, and Senior Pastor at the Buffalo Korean Presbyterian Church in Tonawanda, NY. He also is an Adjunct Professor at Denver Seminary in Littleton, CO.
Rev. Kim came to the States in 1999. He was first ordained in the Korean Presbyterian Church. Then, six years ago, he transferred his ordination to the Presbyterian Church (U.S.A.)
Rev. Kim came to First Hinton in the midst of the pandemic. That has made it a challenge to meet and get to know the members of his congregation.
The church has been livestreaming their service on Zoom and that has worked well. He does note that it is difficult not being able to see the people while he is preaching. He commented, "It is not a movie theater. It is worship."
Nevertheless, Rev. Kim has found that, in some ways, the pandemic has helped him. It slowed things down a bit and allowed the congregation to get to know him and respect him as a preacher and teacher of the Word of God first. That has proved to be a good starting point to develop the needed personal relationships in turn.
Rev. Kim has been greatly helped in his ministry by his wife, Mi Young, who has taken on the youth and children's ministry of the church as a volunteer. She has also been able to help him with the culture changes.
Rev. Kim says that it is still challenging preaching and teaching with the English language. His wife has been very helpful in that area as have been the members of First Hinton.
He has been so impressed with his congregants' willingness to step in and own the ministry of the church. In some of the past churches he has served, there was an expectation that the pastor should do everything. He is grateful that this has not been the case at all in Hinton. He feels very supported, encouraged, and respected. The members of the church are very hospitable, gracious, patient, and generous. Rev. Kim has also been impressed and gratified by their love of the Word of God and their hunger for it.
This is the first all-white, American, English-speaking church that Rev. Kim has served. The Kims may be the only Korean family in town, but both the church and the town have welcomed them with open arms and showered them with patience and kindness.
When asked what attracted him to First Hinton, Rev. Kim said that it began when a friend of his challenged him. In response to the observation of the declining spiritually in America, the friend said, "Why don't you do something about it? Why don't you go pastor? You are a spiritual leader!" That started him on the path to pastoring. He circulated his Personal Information Form, and God led him to the people of Hinton.
Rev. Kim points out that First Hinton is actually 10 years older than the first Korean Church. Missionaries from the Presbyterian Church in the United States went to Korea and began to proclaim the gospel and establish Christian churches there in 1884. The First Presbyterian Church of Hinton was founded in 1874.
Rev. Kim says he is very grateful for those Christian missionaries and that he feels a debt to the Presbyterian Church in this country. His pastoring a Presbyterian Church now is a way of paying back that debt.
When asked about his dreams for the ministry that he and First Hinton will do together, Rev. Kim talks about starting with the basics – faithfully preaching and teaching the gospel of Christ. He sees himself as a spiritual chef, who is charged with cooking spiritually nutritious food – not junk food! He wants his members to be well fed so that they have the strength to live as disciples of Christ and fulfill God's plan. He wants them to be building the kingdom. His prayer is for God to send the church and the town another revival.
Three new members have joined the church in this last year. That is remarkable for a small church in the midst of the pandemic. Another couple has recently started to attend. Rev. Kim sees God's hand at work here.