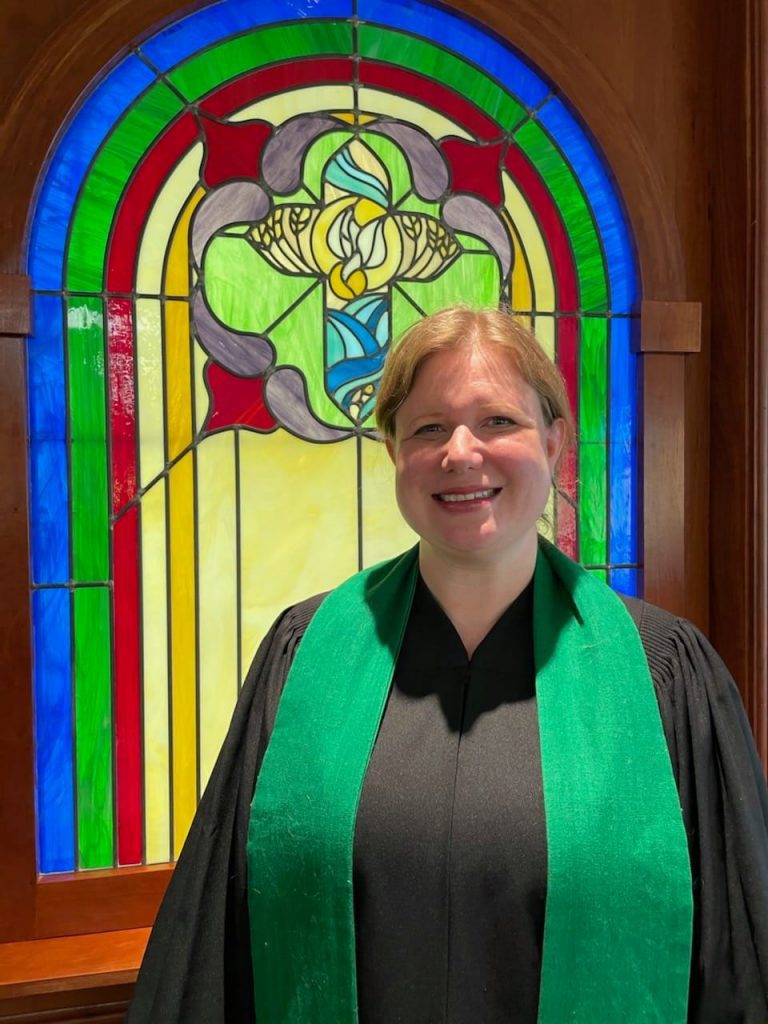 The Reverend Annie McMillan began her ministry with the First Presbyterian Church of Parkersburg on May 3. That means that she and the pastor nominating committee were going through the call process during a pandemic and around the high holy day of Easter. In spite of that, the call process went smoothly and quickly. God is good! She came to the church in Parkersburg between Sundays and preached her "neutral pulpit" sermon there. It was recorded for the PNC, and this same recording was played later for the congregation. Through the advances of technology, she was thus able to lead First Church in worship the day of the congregational vote.
Annie says that she was drawn to this congregation by their love of music and their potential to connect to the wider community. The congregation is passionate in their desire to serve God and to live out their faith. Annie is overjoyed that God has led her to this congregation.
When asked about the things she finds most positive about the congregation, Annie replied that she has felt truly welcomed. She loves their gift of hospitality. The location of the church building is also a big plus. It is a beautiful building with lots of room to walk and enjoy nature around the church and in the labyrinth. As mentioned earlier, the music ministry of the church is outstanding and a deep part of the church's identity. She says that music is "the soul of the church."
There are some differences in this church and the last church Annie served. Although the two churches are of similar size, this church has more older members and not as many youth. This church is also more politically diverse. And this church has a much more traditional style of worship, something that Annie is very pleased about.
The town of Parkersburg is a bit larger than places where Annie has served in the past. And driving on the mountain roads of West Virginia is a whole new experience for her.
Rev. McMillan grew up in the South. Her family moved with her father's job between South Carolina, Georgia, and Florida. Her grandfather was a semi-retired PCUSA minister. He and her grandmother lived in the panhandle of Florida. While her family moved around a lot, she found a grounding in her grandparents' home. For her entire childhood, they lived in the same place.
Growing up, the family was always active in a Presbyterian church. Annie worshiped and attended Sunday School each Sunday. She went to camp, did mission trips, and participated in VBS. She went to college in South Carolina and loved singing in the choirs and being part of plays and musicals. She joined the campus chapter of Habitat for Humanity and was president of that organization her senior year. After college, she spent a year with AmeriCorps in New York state and again worked with Habitat for Humanity.
Annie graduated from Princeton Theological Seminary and married a man she had started dating in her last months of AmeriCorps. His job tied him to the Long Island area, so Annie looked for a call in the area. She was ordained to a part-time position with two small churches. After she and her husband separated, Annie was free to accept a call to another church on the island as their interim pastor. Later, she was called to serve a church close to her brother and about three hours from Chicago.
Following her time there, Rev. McMillan was led to accept the call to the First Presbyterian Church of Parkersburg. She is excited about the Advent series they are doing on Sundays. The church is also doing a Bible Study called "Angels Among Us, #DoNotBeAfraid."
When asked about her dreams for the ministry that she and First Presbyterian will do together, Annie talks about her appreciation of the church's willingness to have a team approach to ministry. One of the challenges and opportunities that the church faces is finding ways to relate to the community around the church, which is on a street that has many of the big historical houses where some well-to-do people live but is also close to 13th Street, which is one of the poorer sections of town. The church is reaching out to both neighborhoods and seeks to encourage relationship building between them.
Annie is excited about being in ministry with the First Presbyterian Church of Parkersburg and can't wait to see what God has in store for them!