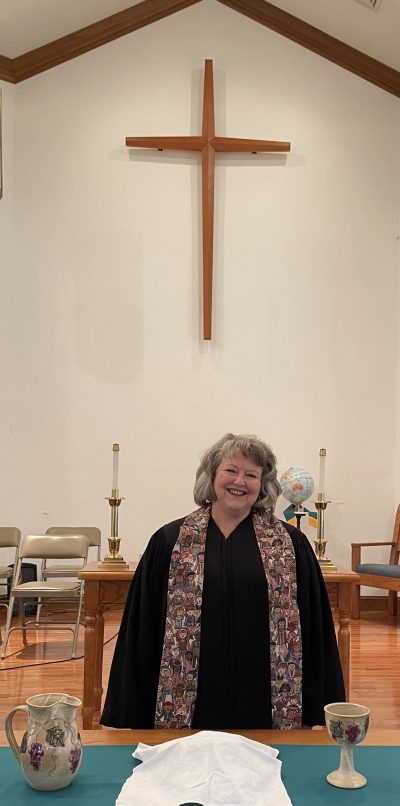 "That is where you are going to go."
That is what Elizabeth's 92- year- old Aunt Sissy said early in the process. Elizabeth had called her aunt to tell her about the Glenville Church's Ministry Information Form and how attracted to it she was. Her aunt could hear the excitement in Elizabeth's voice and knew that she had already fallen in love with the Glenville Church. Her aunt also sensed the work of the Holy Spirit in this pairing.
Time would prove that her aunt was right. You gotta love those elderly saints of the Lord and their spiritual wisdom!
Prior to this call, Elizabeth served for 19 ½ years as a chaplain at Shenandoah Valley Westminster-Canterbury, which is a retirement community with four levels of care from Independent Living to Skilled Nursing Care. Elizabeth thrived in that role and was looking for another chaplaincy position.
However, the Chair of the Pastor Nominating Committee at Glenville contacted Elizabeth and asked her to review their Ministry Information Form. When she did, Elizabeth was immediately drawn to their sense of radical hospitality, passionate worship, and their commitment to justice, diversity, and inclusion. She was also reminded of her childhood conviction that God was calling her into the ministry.
Elizabeth was raised in a Southern Baptist home in Georgia. She grew to know and love the Lord and felt called to serve God. She first thought that she would serve on the mission field, so she went to college and graduated with a degree in Early Childhood Education, only to find out that she would need still more education to be considered for the mission field. Her way there was also blocked by her father's death and her need to care for her mother.
For awhile, Elizabeth drifted away from the church and gave up on her childhood dream. Then, she was drawn back to the church. This time, she found a home in a Presbyterian Church where she came to know that God loves us all unconditionally, not because of what we can or can't do. She was also able to interact with women who were deacons, elders, Sunday School teachers, and a female pastor. This led to a revival of her childhood dream and resulted in her going to seminary.
After 14 years in the classroom teaching first and second grade children in the public school system, Elizabeth went to seminary at Columbia Theological. Among the field work that she did were practical classes in Clinical Pastoral Education. She served as a student chaplain in real-life settings and loved the clinical setting. This led to her work with Westminster-Canterbury.
Now, she was looking at the possibility of serving as a church pastor, and she was being drawn powerfully to this new ministry. Having made that decision, the process seemed slow and frustrating, but everything was very positive and God worked it all out. Her first Sunday with Glenville was Mother's Day 2022.
Elizabeth loves the beauty of West Virginia and the Glenville community. Shortly after her arrival in Glenville, the West Virginia Folk Festival was held there. She loved the music, the handcrafted items, the food, and the atmosphere of the festival. It has been a bit of a culture shock in other ways, though. She is now an hour away from many of the better stores and medical services, which is a stark difference from the last place she served, where all of these things were within walking distance for her. It is an adjustment, but one that she is happy to make. She has felt so welcomed and cared for by the church and the community.
When asked what was different about this call from her previous call, Elizabeth noted several things. In her last call she was ministering to many residents who were not Christian or associated with the church; many were atheists or agnostics. The residents who were Christian were from a variety of different denominations, and some of them from traditions who hold that "If you aren't from my church, you aren't really a Christian." Finding ways to work with all of these people was a real challenge at times.
Additionally, all of the people she worked with were older; she had no youth or working-age people. The worship services tended to focus mostly on the theme of "You are still a beloved child of God and God is still calling you to ministry in spite of the losses in your life." Another difference was that the administration there did not share the church's vision. The administrators were running a business, and they wanted all of their staff, including the chaplain, to continually come up with tangible, reportable goals. Much of the pastoral work that she was doing couldn't really be measured that way.
In Glenville, Elizabeth is privileged to work with many different age groups. She will be leading a youth group for the first time in her life. And she will be working with people who cherish the vision of the Church and are in active partnership with her in this ministry.
Elizabeth finds many things that are wonderful about the Glenville Church. The people are amazing, helpful, and faithful. She is blessed with a wonderful Clerk of Session. She finds working with the youth to be an absolute joy. The music program with the college students singing in the choir is a great positive. The mediation garden and the beautiful scenery behind the church is very refreshing.
Her dreams of ministry with the members of the Glenville Church and wider community include helping people grow in faith and spiritual discipline, enjoying working with younger people, and growing the church numerically – reaching new people. Most of all, she prays that they will glorify God in all that they do.
Welcome to the Presbytery, Elizabeth. May God greatly bless your ministry together with the people of the Glenville Church!