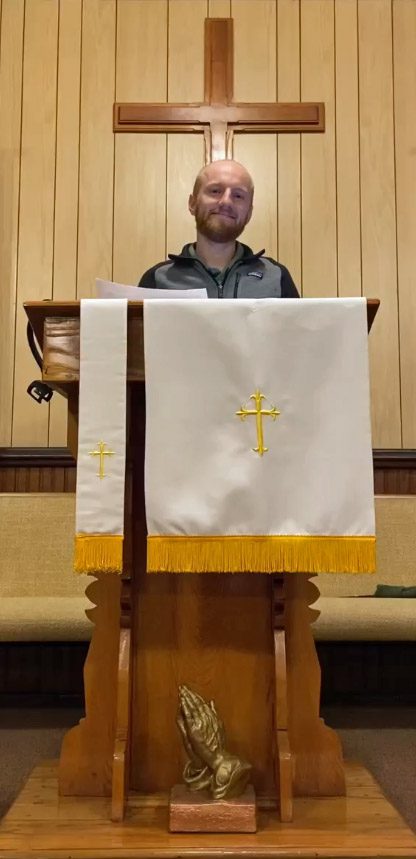 Emmet Rogers grew up in Nicholas County thinking that he wanted to be a chemical engineer. God had other plans. In his junior year at Richwood High School, a Young Life group was started at the school. He was impressed that the leader of the program, Brian Shirak, would move to a backwater place like Nicholas County to tell teenagers about Jesus. That summer, Emmet went to the Young Life Summer Camp, and his life changed. He gave his life to the Lord, and he committed to following wherever God called him. He didn't know where that would be, but he somehow knew that he would be called to go somewhere most people wouldn't want to go in order to share the gospel with teenagers.
Emmet graduated from Richwood High School and enrolled in WVU. There, he studied engineering and business. He continued to work with Young Life, and he felt a restlessness in his studies. When he discovered that he could graduate early if he changed to a multi-discipline major, he jumped at the chance. Emmet had met his wife, Hannah, through his continued involvement with Young Life, and they both were eager to start work in that ministry.
They moved to Upperglade and started working with students at Webster County High School. In addition to being on staff with Young Life, Emmet taught Special Education classes at the middle school for two years. Then, as his work with Young Life increased, he gave up teaching but still continued to sub, even taking a couple of long-term substitute positions.
The Rogers were looking for a church home in the area, and they found it at the Upper Glade Presbyterian Church. They liked the worship service and could sense the spirit of God at work there. One notable thing is that at the closing of each service, the congregation forms a circle and sings to each other the song, "God Loves You." It is a powerful, spiritual, and bonding experience.
Like many smaller churches, the Upper Glade Church is largely made up of one extended family. In this case, it is the Given family. Both Emmet and Hannah's birth families live some distance away, and they were feeling the need for family support, which they've gotten from the church. Emmet says that he and Hannah were quickly adopted into the church family and made to feel like they too were a Given. "The people there are just so wonderful," Emmet says.
When the Rogers joined the church, Upper Glade was frustrated in their search for their next pastor. They had been without a regular pastor for nearly 10 years.
They asked Emmet for help. He started to preach for the church once a month, then twice a month. About the time that both Emmet and the church were looking for something more, he heard about the presbytery's Commissioned Pastor program. He talked with Rev. David Lee, the Stated Supply Pastor at the Marlinton Church, about the program and soon began to take classes. Emmet says that David Lee has been a great mentor for him.
The program, which takes three years to complete, has been quite a journey. Emmet has since completed all the necessary steps in the program, and in August of 2021, he was formally commissioned by the Presbytery of WV. He is now officially the Commission Pastor for the Upper Glade Church!
Emmet has transitioned away from the Young Life Staff so that he can devote more time to pastoring the church. Hannah has also given up her staff position with Young Life so that she can be a full-time homemaker and mother to their two children Jenna (3-and-a-half years old) and Jace (1 year old).
Emmet's younger brother and wife have also moved to the area and joined the church. That has added a new spark to the church since many of the members of the church are older. Emmet has a vision of the church being able to reach out to teenagers and young families and tell them about Christ. He is very excited about what God is doing and can't wait to see what God will do next.
The Upper Glade Church has such great skills and spiritual wisdom to share, says Emmet. They have so much to offer, and God is showing them new possibilities on how to use those skills and wisdom.
May God richly bless the ministry of Commission Pastor Emmet Rogers and the Upper Glade Presbyterian Church!