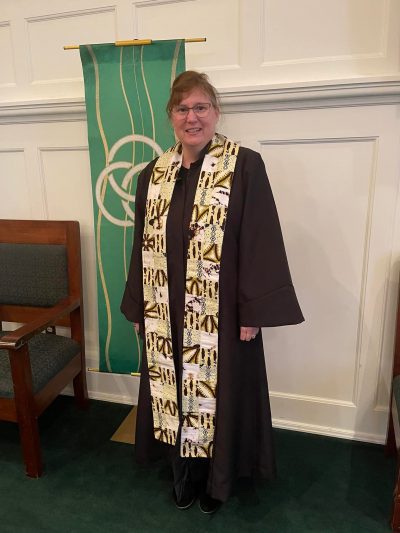 Some people's call to ministry is sudden and dramatic. Others experience the call to ministry as more of a process. In each case, we see the wondrous power of wisdom of the God who loves us.
Virginia "Ginna" Taylor grew up in South Charleston. Along with her parents and siblings, she attended First Presbyterian in Charleston. She graduated from West Virginia State University with a degree in accounting and worked as an accountant for nine years – first with the Charleston Marriott Town Center and then with the State of West Virginia.
She married her husband, Blair Taylor, and together they adopted a baby and named him Tait, her mother's maiden name. It was when Tait attended preschool at First, Charleston that Ginna realized she would love to work with young children. She went back to school, taking classes from both Marshall and West Virginia University, and completed a degree in Early Childhood Development with an endorsement for Pre-K. Ginna started working at the First Presby Preschool program under Director Jackie Thompson. Jackie helped Ginna grow into her new role. In time, Ginna became the director of the preschool program, and with her new degree was able to be a teacher for her teachers.
Rev. Dr. Bill McCoy and Rev. Jim Roberts recognized Ginna's gifts for ministry and persuaded her to become a regular part of the leadership for Sunday morning worship at First, Charleston. As Ginna's gifts became more and more apparent, she was encouraged to enroll in the Authorized Lay Preacher/Commissioned Pastor program with the Presbytery. Ginna and her classmates were completing their classes during the pandemic; nevertheless, the members of the class developed deep bonds with each other.
After her retirement from the preschool, Ginna was able to preach in a number of churches in the presbytery. As the pastor of First, South Charleston left to take a new call, the session approached Ginna and asked her to become their pastor. Ginna sensed that this was the work of the Holy Spirit and was happy to accept the call.
In February of this year, Ginna Taylor was officially commissioned by the Presbytery of West Virginia as the Commissioned Pastor of First Presbyterian Church of South Charleston. She said that it feels like coming home again.
Ginna has found a spirit of excitement and energy among the members of First, South Charleston. The Holy Spirit is really blowing through them, and the excitement is infectious and wonderful! She has been amazed at the level of technology present and in use at this church; the level of expertise is exceptional. And they are open and willing to share their knowledge and experience with other churches.
Ginna also finds the Child Development Center at First, South Charleston to be a big plus. Children are always moving past her office door, and she is uplifted by their laughter and silliness. She says, "A little silliness is good for our souls."
May God continue to bless the ministry of Commissioned Pastor Ginna Taylor and the First Presbyterian Church of South Charleston.