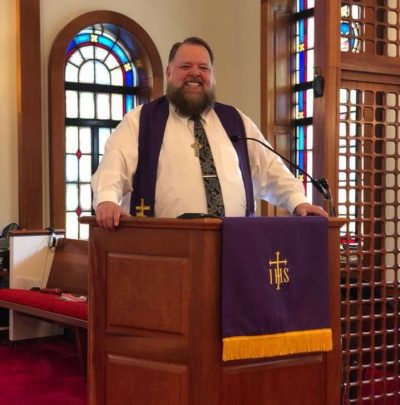 "Please tell me this is not a call to be a pastor."
That is what Jay Nunley said to his pastor, Jim Musgrave, one day in 2016.
Jay's parents took him to mostly Baptist-type churches when he was growing up. He never connected with them and drifted away from church entirely by the time he was an adult. He graduated from high school in Logan County and started attending Marshall University. Before he had earned his degree, he had a job offer in radio from a station in Charlotte, NC. That was something he had long wanted to do, and he left Marshall to take that position.
In the meantime, his parents had found a home in a Presbyterian Church and urged Jay to check out the Presbyterian Church as well. By 2001, Jay had accepted a radio job in West Virginia to be closer to his parents. He had also started going off and on to the First Presbyterian Church of Logan. Like his parents, Jay connected with the Presbyterian Church. Over the next several years, he joined the church and became more and more involved. When he invited his pastor, Jim Musgrave, out to lunch that day in 2016, he was searching for something more. He still enjoyed much of his work with the radio station, but felt like there must be more to life than telling jokes and playing rock music.
"Please tell me this is not a call to be a pastor," he said to his mentor.
Jim smiled and said, "Yes, that is a call to ministry."
Jay was not at all sure that was what he wanted to hear. "What do I do?" he asked.
Jim answered simply, "Become a pastor."
Jay fought this for a while but soon found himself preaching at the Gilbert Presbyterian Church a few times a month. He also enrolled in the Presby Prep program offered by the Presbytery. He finished the first two years and became an Authorized Lay Preacher (ALP). He continued to work full time in radio while he preaching on a regular basis at Gilbert.
In 2021, Jay finished the third year of Presby Prep and was commissioned in August as a pastor.  In September, he officially became the Commissioned Pastor (CP) for Gilbert and also for First in Logan. After 36 years in radio, a profession he was so passionate about, Jay resigned from his work with the radio station. He did so because he has a new vocation that he is even more excited about. Now, he can give his full attention to the churches he is pastoring.
Pastoring full time has meant a significant cut in income, but Jay says it is the best thing ever!  He gets to speak God's word and be involved in people's lives in such meaningful ways. He loves leading the church to be more than just a place to gather. The church, he says, is the good news we take to people.
When asked about the two churches, Jay said that they are somewhat different but both wonderful.
Gilbert is a small church made up largely of a few key families. Everyone knows they are important, and everyone helps "row the boat." They have a genuine sense of love and care for each other and for the wider community. Their community has a lot of struggles with drug addiction; the church is very good about reaching out to those struggling with this problem and doing so in a nonjudgmental way. They are full of grace and mercy. The Gilbert Church is also very good at welcoming newcomers in a way that is not pushy but genuine caring.
The Logan Church is willing to put in the time, research, and prayer to make good decisions. Yet, they are also able to respond quickly to pressing needs. For instance, when the director of a neighboring food pantry was hurt in an accident, First Logan quickly stepped forward to help with a major food distribution so that no one was left out. They love the traditional vestments and order in worship, but they are also open to new expressions of worship and spirituality. The church members are involved in mission outreach to the community both as individuals and as a church; they offer rides and help to the elderly, bring food and support in times of illness, and they recently came together to make up and deliver hygiene bags.
The Covid-19 pandemic has been hard on churches everywhere, but Jay gives thanks that both churches have responded by making the services available using electronic means. They have a special telephone number that people can call to join the worship service by phone. They have also been able to do Bible study and a book study online.
Because of poor internet service, they cannot livestream their services, but they are able to record them and put the recordings online. This is done in cooperation with other local churches. Jay has been impressed that they have a family from China and a family from India who have been joining them online.
May God continue to bless the ministry of Jay Nunley and the Gilbert and First Logan Presbyterian Churches!