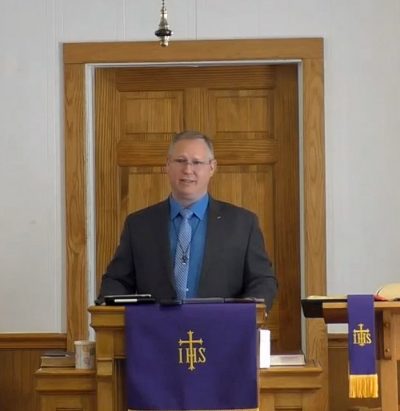 "I'll give them two weeks." That is what Terry Layton said in 2017 when his own pastor, Roger Eskins, asked him if he would preach for Marsh Fork United Presbyterian Church. Their pastor, David Pettry, was sick, and they really needed someone to fill in. Five years later, Terry is still there. God moves in mysterious ways, his wonders to perform!
Terry grew up in the little town of Comfort in Boone County. He met his wife, Erica, when he was in the Marines and stationed at Camp Pendleton in Oceanside, CA. Erica had just separated from the Navy at the time and was visiting her sister who lived in the same base housing community as Terry. They married, and when Terry's enlistment was up, they stayed in California for 16 years. "Until I could finally persuade her to move to Comfort, WV," says Terry.
While Terry was in the Marines, he worked on teletype machines. When the teletype machines were phased out, he started working on computers. In civilian life, Terry continued in the computer field, doing I.T. work. He moved back to his hometown but continued to work for the same people in I.T. as he had in California.
"I may be the only I.T. person who hasn't bought a new computer since 1990-something," Terry jokes. Instead, he has simply fixed up old computers that others have given him. He does, however, love his tablet and admits to buying new tablets and using them for a lot of what he does both in the church and in his I.T. job.
Terry and Erica have four children: Michael, Kayla, Robin, and Hannah. They also have three granddaughters: Athena, Charlotte, and Elliot.
While in California, Terry and his family became very active in a non-denominational church. When the family moved back to Comfort, they were unable to find a similar church. However, they did find a church home in the Comfort Presbyterian Church, where Roger Eskins is the pastor.
When asked about how he became a pastor, Terry says it started with Roger calling him one year on the Saturday before Easter. Roger was sick, and he couldn't find anyone to fill the pulpit for him on Easter Sunday. Terry agreed to preach that Easter Sunday, and the sermon was well received. After that, Roger asked him to preach on other occasions, and Terry found that he enjoyed doing so.
Then, Roger asked Terry to preach at Marsh Fork. He agreed to do that for two weeks. Afterward, their pastor was not able to resume his work, so Terry stayed on. One day, some of the church members asked Terry if he was a CRE (Commissioned Ruling Elder). Terry said, "I don't know. What is that?" That led to conversations with Roger, Jim Musgrave, and others from the Presbytery about what is now called the Commissioned Pastor program.
Terry enrolled in Presby Prep, the first step of the process, and completed the three years necessary to become a Commissioned Pastor. He thinks highly of the program and credits Susan Sharp Campbell for her good work in directing it. Terry says that he often talked about the program – both the good and the not-so-good – with his wife, and he must have talked more about the good because Erica has recently enrolled in Presby Prep herself. Terry says that participating in the program has been one of the high privileges of his life.
At the August 2021 meeting of the Presbytery of West Virginia, Terry was officially commissioned as the pastor of Marsh Fork United Presbyterian Church.
Terry loves working with the Marsh Fork Church. He says they are such a joyful group that meets together for worship and mission. He also very much appreciates the rich heritage of the church, which has been serving Christ in the Dry Creek area for 107 years. Many generations of the same families have been a part of the church, and their roots run deep.
He also praised the congregation for their willingness to engage in mission outside of the church walls. Many of the members are older and no longer have the energy of youth, but they are just so eager to serve, Terry says. Not too long ago, they were talking together about the needs of their community. Someone suggested that they find a way to provide food for the needy. They didn't really know how to do that, but in asking around, they soon discovered a nearby church that was running a food pantry. It just so happened that that church was really looking for help and volunteers for their food pantry mission. The Marsh Fork Church immediately jumped in and started helping.
The Marsh Fork Church is in the process of erecting an outdoor movie screen at their church so that they can show movies for the local community. People will be able to park in the church parking lot and have a very good view of the movies on the screen.
Congratulations to Terry Layton and the Marsh Fork Presbyterian Church! May God continue to bless you and the ministry you do in Christ's name!