By Rev. Maria Wiblin, Fairmont State University campus pastor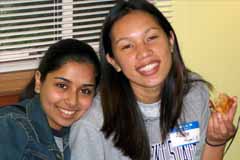 The Wesley House, which is a ministry of the United Methodist Church and the Presbyterian Church (U.S.A.), takes seriously Matthew 25: "For I was hungry and you gave me food, I was thirsty and you gave me something to drink…" It seems that all our ministries center around food.
Our most popular ministry is free lunch. We serve free lunch on Mondays, Thursdays, Fridays and the second and fourth Tuesdays, plus every day except Friday during Finals Week. On Thursdays, we have several churches that volunteer to prepare and serve the meals.
Our meals are more than just serving food for our students, though.  Yes, we are meeting a physical need, but we care for their souls and their spirits, too. Conversations can be overheard about concern for ill parents/grandparents, relationship problems and problems in school.
We also offer a small food pantry. Students have the opportunity to take food they need to help supplement what they may already have. Donations for the food pantry come from local churches who take up donations for us.
Christmas cookies are another highlight around campus. I make dozens and dozens of Christmas cookies and deliver them to different departments on campus. It gives me a chance to check in with people on an individual level as well as offer them Christmas joy!
Soup, Sandwiches & Discussion is a Sunday evening program we are trying to get off the ground. The idea is a light supper and then a discussion on how the Bible relates to their daily lives. We believe it's important to see where faith and life meet.
We are gearing up for our 5K walk/run fundraiser, which will be held March 30.
Christ is alive on the campuses of Fairmont State University and Pierpont Community and Technical College!